Some residents within the Shai Osudoku and Ningo Prampram Districts of the Greater Accra region said, they now live in fear as there seems to be a new form of crime rearing its ugly head in the neighborhood.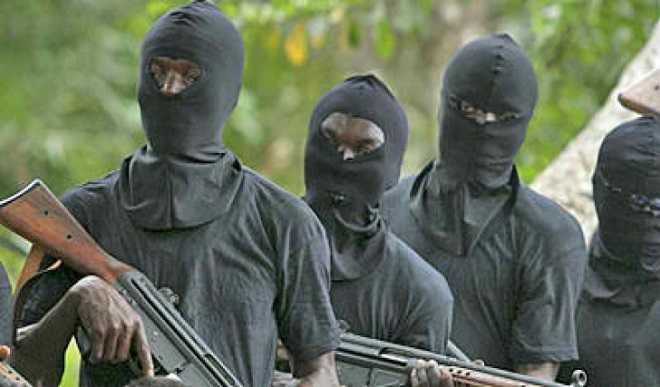 According to them, some armed men last week Wednesday besieged a gravel pit at Otsebleku and kidnapped four workers after which they demanded a ransom of forty thousand cedis before releasing the victims.
According to the chief of Mobole, Nene Tettey Kojo, who condemned the incident, said although the four were later rescued around 2 am Thursday dawn through a joint operation by the police and military at their hideout at community 9 in Tema, such crime must not be allowed to thrive in the country. He thus condemned the act and called for the perpetrators to be dealt with if found culpable.
"If this type of crime is not curtailed, it will soon gain grounds in our country and we shall forever know no peace," he said
The victims, Tetteh Nartey,54, Solomon Narh Quashie, 62, Stephen Quashie, 67, and Bismark Kwabena Quashie, 53, told the media that it took the timely intervention of the military and Police to rescue them as the criminals had threatened to kill them if they do not receive the ransom.
Narrating the incident, one of the victims, Solomon Narh Quashie, 62, said " we were winning gravels at our gravel pit when we saw some well-built men besiege the site with guns and machetes authorizing us to stop work and bring the sales we had made for the day.
Realizing they were armed, we just had to oblige. They were however not content with what they got and demanded we enter into a taxi where we were taken to an apartment around community 9 in Tema".
He continued that "upon getting there they demanded we pay forty thousand Ghana cedis before we could get our freedom or else they will kill us, as killing meant nothing to them. Quickly, they allowed me to place a call to some of our brothers and senior men to tell them to bring the money or they come for our corpse. Our brothers, however, feigned interest and surprising to us we were there around 2 am Thursday when we saw a team of police and military personnel who had come to our rescue."
Mr. Quashie continued that "I'm really terrified by this and I pray these guys are thoroughly investigated and dealt with although the suspects arrested have since been granted bail."
One of the victim, Tetteh Nartey also said" I am now scared of going to my place of work because these guys are dangerous and can do anything especially now that they have been granted bail. They warned us when we were kidnapped that if we interfere in their business with the police, they will deal with us so as a matter of fact I don't think I am safe".
The District Commander of the Oyibi Police station, Chief Superintendent, Kwaku Bempah in an interview said the suspects who were picked up were earlier cautioned and charged with kidnapping but upon further investigation realized that the background to the incident is as a result of some land dispute between the two parties.
He said the suspects will be charged with a different offense and later put before the court.
" So our the investigation has revealed that it is not kidnapping but it is as a result of some misunderstanding over who has the right to win sand over a parcel of land situated at Otsebleku. So according to the suspects, they went there to arrest the victims; and instead of sending them to the police station took them to a private resident in community 9″.
He added that "now that we have realized that it is not kidnapping, we are still investigating and after which we shall send them to court".
However, in a related development, some armed men again on Saturday, August 15, two days after the alleged kidnapping incident thronged another gravel pit at Mobole where they robbed the workers of their sales for the day.
They have since lodged a complaint at the Afienya police station pending investigation.
However, some business people operating gravel pit within the area are unhappy with the increasing incident of robberies being recorded in the area and called on the police to put in place some stringent measures to bring these acts under control.
Please send us your articles for publication via

ramzylucky1@gmail.com

or

WhatsApp 0246035658